Hello everybody! Today I´ll talk about this type of trausers, the baggies. Personally they don´t like me so much because they make me fatter and my thighs and hips seem enormous, however I must admit that they were the fad last season and they are very stylish if your figure allows them.
I´ve seem some wonderful combinations, so I hope you love them too.
These baggies are beautiful. If yours have high weist a fine, narrow belt is a good option, but it must be of a colour that combine both with pants and complements ( handbag and shoes) The baggy is not a common trouser, and you know it when you buy them, so in my opinion if you put somehing with a lot of patterns, or a striking t-shirt you will be too, I don´t know but you will be worse than if you wear, like the model above, a basic t-shirt inside the pants ( and if it´s too hot better a straplees shirt) because you will be more stylish and you are not going to fall into vulgarity.
Ending this look, the complements are very important, the shoes and teh handbag have leadership because in the whole look she´s wearing nude and cream colors, but the complements make this look absolutely amazing.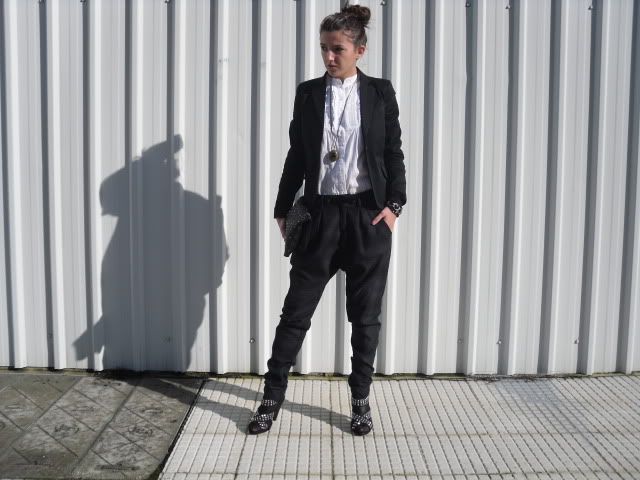 In this outfit the baggy is combined with a shirt, that goes into the pant for enhance your shape. This is a formal look, and a easy one. Now I´ll stand out the shoes: maybe with these pants you feel shorter, in that case put some hills, but not too high. In the other photo the model is also wearing heels. If you´re tall enough you can use baillerines or botes, well no botes, better booties, because if you wear boots up to the knees ( or higher than the ankle) they will cover your calf and you will seem a clown just showing the wide part. This model wear sandals and shocks, but they look cool. So remember, put attention to your shoes, lest you become too fat and short!

Hoping these have been useful
,
Miladies

NB: I´m Annie, and if you havent seen the duffle coats post you must see it, skip Marta´s one and read it over because its wonderful! ( And it´s not because it´s mine..)